We are the hog roast machine suppliers that clients in the catering and hospitality sectors trust to provide them with the catering equipment they need to enhance their business and treat their customers to some fantastic food. We supply hog roasters to both large and small businesses and we have built a well-deserved reputation for the quality and versatility of our equipment.
We have many happy clients who are very glad that they chose to purchase one of our hog roasts, from small mobile catering businesses to large companies. We love providing such a high-quality product and passing our enthusiasm for hog roast catering on to our clients.  Hog roast catering is such a fun and flexible way to provide food for any occasion and our aim has always been to make it as easy as possible for caterers of all levels of experience to achieve this for themselves.
More about our cutting-edge hog roast machines
We don't just sell the best hog roast catering equipment, we also design and manufacture it too at our UK depot. We combine our in-depth hog roasting expertise with our technical knowledge in order to design high-spec, multifunctional hog roast machines that our clients can rely on to help them to provide impressive food to feed any number of guests.
As well as producing consistently excellent results when it comes to food preparation, our hog roasters are compact enough to be transported to and used in just about any environment.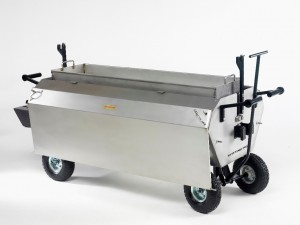 All of our machines fit easily into a catering van and can be set up anywhere that you are required to provide catering services. Our hog roasters don't require mains power to be operated so you don't need to be restricted to catering at sites that have kitchen facilities. This means that you can supply any amount of hot food for your clients for any type of outdoor event in all sorts of locations, including remote settings. Our sleek stainless steel hog roasters also look the part and provide an eye-catching centrepiece for any event.
Maximum performance for an unbeatable price 
If you buy a hog roaster from us, you will be receiving the highest calibre of equipment for the best possible price. You won't find better quality hog roast machines for a more affordable cost anywhere else. As event catering professionals ourselves, we appreciate how important it is to keep overheads as low as possible, and we will always supply the most competitively priced hog roasters without ever compromising on the quality of our product.
Expert advice from our specialist team
Our team is made up of highly experienced hog roast specialists who are all incredibly proud of the calibre of the equipment we supply. We are committed to providing a transparent and informative service from start to finish and we always go the extra mile to ensure our clients are completely happy with the equipment and the service we provide.
We will take all the time you need to talk through your requirements, questions and any concerns you may have in order to provide you with the perfect machine for your catering requirements. We will utilise our extensive knowledge of hog roast catering to identify the most appropriate model and features that will maximise the benefits for you and your catering company. We are available by phone and email to discuss all aspects of purchasing a hog roaster from us, so if you are thinking about buying your very own hog roast machine, please drop us a line and we will be only too happy to help!